Gästebuch
Recurrent lameness and balance issues
Sally, Irish sports horse, 15 years

I have an Irish sports horse 15 years old mare called Sally who came from an equestrian yard. She had issues with lameness and was due to go to a blood bank before we rescued her.

Sally has been with me for last 3 years and is one of three horses kept together living always outside.

Sally is ridden out hacking and some cross-country rides. She loves to jump and has been a great honest horse.

However, Sally has always been very short in her stride in front and quite crooked. This has caused issues especially in arena riding and training. She also has become quite temperamental – especially when saddling – quite sensitive in that area. She has had some issues with coughing – especially with dry hay and spring pollen.

In the last 12 months Sally has become more and more choppy in her front legs and has also gone visually lame on occasions. When riding she has tended to RUN away with herself and has become quite anxious and always trying to push in front. Subsequently also quite hard to control. Her balance did become a big issue and a concern with no obvious solution.

I went to a seminar along with my wife being held by Klaus last year and we were both impressed with his presentation of the reasons for crookedness in horses and began to realise that Sally was suffering from this problem. It really did make sense when looking at all the support information from Klaus.

We sent a short video over to ARR of Sally working on a circle, both right and left rein. We got a detailed response from Klaus.

Subsequently We made the decision to send Sally over to Germany where she has been for some 10 weeks. We have been kept up to date by ARR on Sally progress by video / text.



Sally with her front shoes as a temporary measure. We were unsure at first BUT they did make a noticeable difference.

We have never had Sally shod as we go barefoot with all out horses but it became evident that some front shoes would assist Sally in re programming her way of going and so she had a pair put on at ARR.



Sally getting checked over by the chiropractor

It also became evident that we needed to investigate Sally diet and ARR have been great in sorting this out along with some homeopathic treatment for her cough which at time of writing has got a lot better.

I went over to ARR for two weeks prior to bringing Sally home and spent time with Gabrielle looking at my riding!

Gabrielle set about helping me to re learn where my SEAT was - I have to say it HURT a LOT, BUT it was encouraging to begin to see the way I have been riding Sally was not in a way to help her get straight as I was in fact helping her to stay crooked. But with time spent in the saddle on the lounge and combining in a lot of exercise things soon improved.



Exercises for a better seat

It was the way though that both Gabrielle and Klaus took the trouble to EXPLAIN things and how our behaviour when on the horse – both GOOD and BAD – affected the horse.



New saddle

We have been back with Sally for just over two weeks now and every day when riding I get to FEEL how Sally has changed – not only in the way she performs BUT also in her attitude and sense of self-esteem.

The first time we went out when we got back Sally was a different horse – she was full of herself and really alive!!

I have to say this as being some what sceptical in the beginning but now actually not only seeing the improvements that ARR have achieved with my horse BUT and more importantly for me feeling the difference is best thing I have done for myself and my horse.

It really does make a difference in the training that ARR do in Germany.

Going forward we are longing Sally most cases daily as having been showing to do by Klaus and Gabriele.

We have invested in a round pen so that we can continue with the work as started by Klaus and Gabrielle with longing. The one we chose was a good price and very easy to put up and move around. When we are rich we will get a roof!

I am riding quite a lot and using what I have learnt mainly hacking out – have to say my riding is no longer taken for granted BUT now both myself and Sally have an objective on each outing!!

This is very early days BUT if we can continue with everything that ARR has taught Sally and myself I feel confident that I will have a straighter and contented horse. Is definitely a work in progress?

Finishing this report have to say that my attitude towards my riding and my horse has been completely changed in a good way by everyone at ARR. I believe that I am ACHIEVING something every time I ride out.

To say also that we were treated very well by everyone at ARR who have a family atmosphere, and everyone helps one another.

Thanks to everyone at ARR especially Klaus and Gabrielle for all their good work. Not forgetting Yvonne who was ever helpful in planning. I would strongly recommend anyone who is serious about the wellbeing of their horse and wanting to improve their own riding skills to investigate the way ARR approach this.

I am now constantly referring the book CORRECT MOVEMENT IN HORSES by Gabriele and Klaus as an ongoing reference book and reminder for me.
Thanks, ARR!

Notes:
We could do with more days with Klaus in UK and in different areas as can sometimes be difficult to travel just to north wales. Getting to GERMANY and ARR was in the end not difficult although could be daunting at first. The ferry going from Calais must be booked with one of the channel transport companies. We used John Parker who were very helpful and made it very easy so don't be put of about the distance to ARR. When we left to come back we left at 12 PM and arrived back at 1 pm – so a 12-hour trip including Ferry and time change. Sally was fine. We live in Herefordshire. Cost of the ferry at £140. Time from Calais to ARR approximately 4 hours. If you do get a chance to take your horse over to ARR in Germany, you don't want to miss it! You do need a 3.5 tonne box though as a trailer is not allowed on the ferry.

You need to take a trip to the WESTERN SHOP as is an Aladdin's cave of good stuff! And is only 30 minutes away form ARR. They also come over to ARR to help with saddles etc.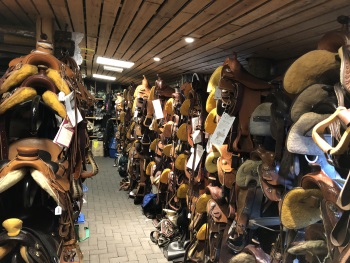 We stayed at the following hotel which is very reasonable – has a great menu and is only 15 minutes away form ARR:

Nierswalder Landhaus
Dorfstr.2
D-47574 Goch-Nierswalde
Tel. 0049-2823-9288833
info@nierswalder-landhaus.de
www.nierswalder-landhaus.de

If we can help in any way: robin@robinpettigrew.com